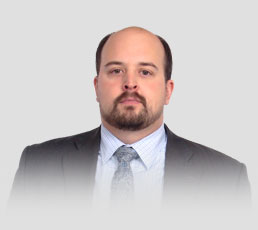 Nicholas Leydorf
Associate Attorney
Born and raised in the small town of Bannister, Michigan, Nicholas Leydorf brings extensive experience to the winning criminal defense team at Grabel & Associates, where he has been an associate for more than five years. A skilled and capable sex crimes attorney, Mr. Leydorf gives every client he represents 100% of his focus and attention in order to achieve positive results. Experienced in every aspect of criminal law, he fights wholeheartedly on behalf of his clients, putting all of his skill, extensive knowledge of the law and expertise into every case.
Mr. Leydorf's philosophy when representing a client facing allegations of a sex offense is to attempt to learn as much as possible about the client's accuser. False allegations are typically based on an incident or something which has gone wrong in the accuser's life, and don't normally occur out of the blue. An example Mr. Leydorf gives of this is in the case of an individual who desires attention, if even in a negative way. He has defended a client who was falsely accused because of the fact that the defendant owed the alleged victim money, and did not want to repay the obligation; therefore, he was falsely accused of a sex crime.
With positive results in representing clients in more than fifty Michigan counties, Mr. Leydorf is confident and capable of determining the best strategies to give his clients the advantage in a criminal defense case. After graduating in 2002 from Michigan State University where he attended on a scholarship, Mr. Leydorf's passionate interest for law led him to the law school of the University of Miami and from there to The Catholic University of America: Columbus School of Law where he graduated in 2005 with high honors. Some of his professional associations and memberships include the American Bar Association and the Michigan Association for Justice.